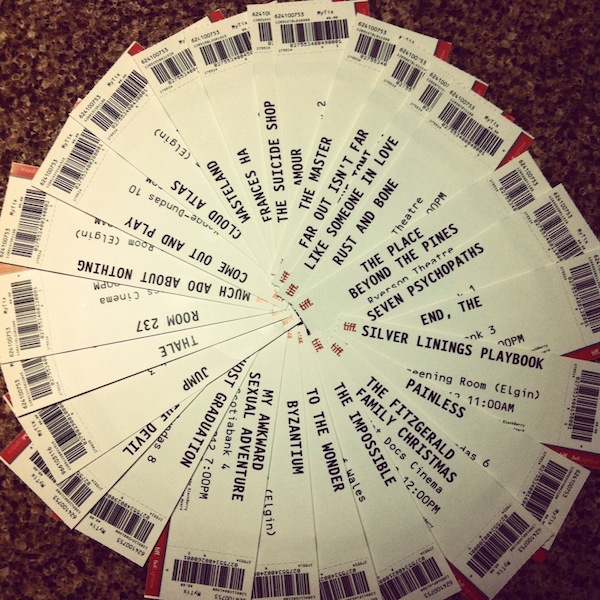 Allow me one last lap before I leave the festival circuit for another year…
21 Thoughts on TIFF 2012
Yesterday was the busiest day in the history of this site. Thanks for that everyone.
You know you have a lot of filmgoing friends when you only sit through 2 of 27 films by yourself.
Surprise, surprise! For only the second time, I saw the Audience Choice Award Winner during the festival.
in case you missed it, I found time to sit in on the Row Three Cinecast mid-festival and discuss my thoughts on the AMERICAN BEAUTY Table Read, SEVEN PSYCOPATHS, TO THE WONDER, and more.
I want to say the ad reel before the films was intolerable this year, but it feels like I say that every year.
Just like any great festival, there were divisive films. Going to love continuing to argue CLOUD ATLAS and TO THE WONDER in the coming weeks.
Because I wasn't getting up in the wee hours all week to add more tickets, this is probably the most well-rested I've been at the end of a festival.
When I sat down for AMOUR on Sunday morning, it was the 100th screening I'd attended this year. In 2011, it took me another six weeks to get to that point. I think this is officially a disease.
In case you're wondering, I didn't write about THE MASTER because there's a full review and a podcast about it coming this weekend.
Next year, I must try to keep the days where I have both my DSLR 

and

my laptop in my bag to a bare minimum. My shoulder still feels screwed up from that attempt at being a pack mule.
I found myself missing The Ryerson Theatre. I must book more screenings there next year.
Ditto the Lightbox.
After all the sitting around and not-so-healthy food, I'm gonna have to hit the gym soon.
I must remember next year not to end my festival with something so heavy.
I find myself envious that Tom Clift is departing today to soak up two more film festivals.
Admit it – part of you is happy that I'm about to start talking about something else.
Contenders for the 2012 Golden Pan Award include THE SAPPHIRES, ARGO, BERBERIAN SOUND STUDIO, BLANCANIEVES and KON TIKI
For most films, my notes would take up a page…maybe a page and a half. For CLOUD ATLAS and THE MASTER? Four pages each.
Is it sick that I'm wondering which dvd in the 'to-watch' stack I'm going to put on this afternoon?
I think next year I'll have to be more flexible. I really ended up missing Lindsay thanks to our opposite schedules.
Easily the best part of my week? Hanging out with my out-of-town film friends on my home turf. I miss y'all already.
Finally, now that the dust has settled, I'd say my top five films of the week go as follows:
THE MASTER
How I'm ever going to make it through the workday tomorrow, I'll never know. Light a candle for me, will ya?