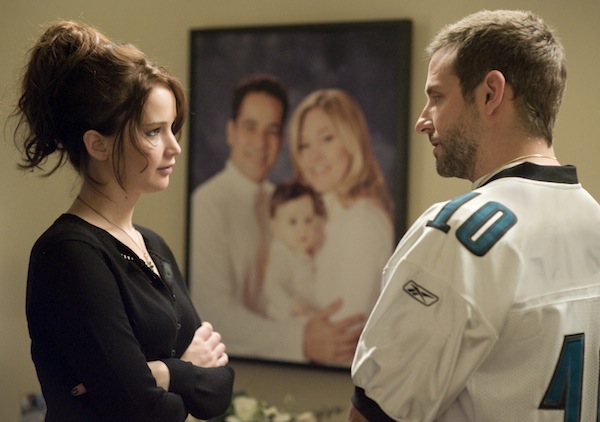 Films like THE SILVER LININGS PLAYBOOK seem pretty straightforward: pretty cast, cute story, happy times for all, right? The truth is that a film like this become completely forgettable when cranked out by the studio system for a quick buck. However, when they're given a little bit of extra attention – especially in the direction and editing for instance – they end up becoming pretty special.
The movie is about Pat Solitano (Bradley Cooper), an undiagnosed bipolar who has just done a nine month stretch in a mental institution. When his family decides to vouch for him and bring him home, he makes it his mission to get his life back in order – namely to get his wife Nikki to take him back. As he goes about his personal mission, he is introduced to Tiffany (Jennifer Lawrence) whose husband has recently died and is feeling just as screwed up as he is. The two develop an uneasy friendship based on personal goals, attempts to feel better, and dancing.
The whole package is unexpectedly good, and I have to believe that comes down to that extra bit of attention I mentioned off the top. The film is largely a series of conversations, but so many of those conversations come with a tommygun rhythm. Getting the actors to dig in and almost spar with each other as they talk while still spanning a whole range of emotional beats is no easy trick. It's the sort of thing that makes a film like this stand out in an era of bright shiny boy-meets-girl stories.
The movie is something of a comeback for director David O. Russell (THREE KINGS, FLIRTING WITH DISASTER). Russell found unexpected success with his last film THE FIGHTER, which was a studio project he took on when his latest self-penned film fell apart. While he brought a lot of his usual touches, he was primarily a hired gun in that film. Now, SILVER LININGS PLAYBOOK allows him to get back to what he does best, which is to steer a bumper crop of actors through some manic and absurd dialogue, and keep the laughs coming. Russell gets great things from everyone involved, especially some unlikely sources like Chris Tucker and Robert DeNiro.
The good thing about a film like this over-delivering on expectation is that it can become a surprise source of great joy in a week of heavy films. After a few days of human drama and down notes, one needs a laugh or two – and just trying to keep up with Bradley Cooper as he rattles off his life views with no sliver of social skill is just the sort of remedy one wants in the course of a film festival.
Much as it might seem like "another rom-com" or "a weird football and dance movie" at a glance, SILVER LININGS PLAYBOOK is a great watch with a lot to take with you.