We're waist deep in a zombie revival that's been raging for about ten years now. The revival has been raging so long in fact, that it seemed like there wasn't anything left to say. But now, at what might seem like the last possible moment, along comes author Isaac Marion and director Jonathan Levive. Together, they have reminded us that there was a voice still left unspoken for:
The zombies themselves.
WARM BODIES is the story of R (Nicholas Hoult). He can't remember his full name, just that it began with an R. R is a zombie, one living amongst many at a commercial airport. He spends his days shuffling along, occasionally bumping into people, and passing the unending days of life after death. He's even made a friend named M (Rob Corddry).
One day when R and M are hungry, they shuffle towards the walled-off city in search of sustenance. Eventually, they happen upon a patrol of humans that have been sent beyond the wall in search of supplies. As is to be expected, a fracas breaks out, with R taking down one of the lead human patrol members named Perry (Dave Franco). As R takes a bit of Perry's brain, he explains to us that eating human brains give zombies the only thing close to emotion they ever feel anymore. As if to prove it, Perry's connection to his girlfriend Julie (Teresa Palmer) – also part of the patrol – courses through R's undead body.
Suddenly, he cannot attack her – he is drawn to her out of something akin to love.
In one swift (I use "swift" relatively here) gesture, R pulls Julie out of harm's way, and disguises her from the other zombies. As he takes her back to the airport for her protection, she's just as confused as we are. What has come over R? Even he can't explain it. It's as if Perry's memories, and the source of all of those memories have sparked something in him.
He's certainly not human, but he's not entirely dead anymore either.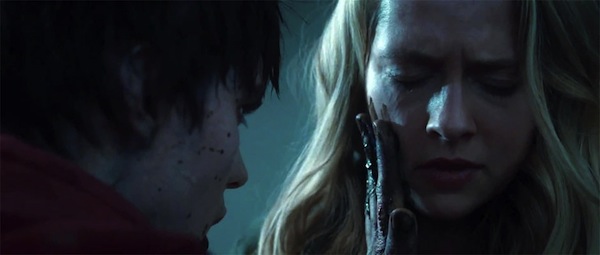 In order to fall for WARM BODIES like I did, one key principle must be accepted:
Even though zombies are the walking dead, they still retain the heart and soul of the human they once were.
On paper, this runs completely counter to everything we've already been taught and told to fear. We've been warned, time and again, that the creature walking towards us will inhabit the body of someone we love, and that there might even be some sort of recognition in their eyes. However, the rules says that the person they were has nothing to do with the monster they have become. We might hesitate to shoot them…but they will not hesitate to eat us.
But what if that's wrong?
Think about it for a moment. DAWN OF THE DEAD floated the theory that the reason why so many zombies were drawn to a shopping mall was because that was where they spent so much of their lives. They are doing something that some small piece of them feels familiar. However, familiarity isn't something that the mindless hordes could act upon. So maybe…just maybe…somewhere deep down in even the most classic zombie…be they slow-lumbering or fast-running…a soul remained.
That soul is what makes WARM BODIES so wonderful. It allows R to narrate his own zombie life, and even to mock it at times ("Geez, we're slow"). Hearing a zombie express what he misses about life – not just contact and civilization, but being able to sleep and feel – is something that has seldom been explored within the genre. It illustrates the nature of community even after one is turned, and how one avoids becoming completely lost.
Keeping R on the social side of things, he's allowed to be charming where he might never have been, and even expressionistic…even if his expressions are usually one or two words long. It's easy to understand why Julie would trust him, even after he reveals his grisly secret. When that heart started beating, those qualities that made him a well-adjusted zombie started making him a well-adjusted zombie-like-human.
All of those ideas are wonderful, and (to my limited palette) novel. However, the key to the whole story that makes it a true joy is something that has been devoid of the whole genre:
Hope.
As we wade into the waters of countless movies, books, and TV shows, we are always left with one overriding narrative: humanity is doomed. No matter how big our band of heroes are, no matter how lush a utopia they have walled themselves inside, the fact of the matter is that they are only postponing the inevitable. The characters in these stories aren't humans, they're only zombies who haven't been bitten yet…and ultimately, the entire world they inhabit is doomed. But what if that's not the case?
What if, somewhere inside of these zombies there is something more, and that a particular key will start guiding them to the other side? Then it isn't armageddon. It isn't a deadly plague. It is an epidemic, an evolution, a journey that has a destination. The world isn't filled with people who are doomed to slowly be picked off one-by-one; no, the world is filled with creatures who must learn to be human again. Creatures who probably spent too much time isolated from their fellow-man before they were turned, and now can see the error of their ways.
Like I said: Hope.
That is what makes WARM BODIES work so well, and what makes it seem like there are still stories to be told within the genre. We've spent fifty years using zombies as a metaphor for how our society is going to end. In that time, the real world has gone and done a lot of different things that have made it feel like we're awful close to the end. Let's close that book and open a new one. Let's open a book that tells us that every night gives way to a dawn…
…even if it's a dawn of the dead.
Matineescore: ★ ★ ★ 1/2 out of ★ ★ ★ ★
What did you think? Please leave comments with your thoughts and reactions on WARM BODIES.