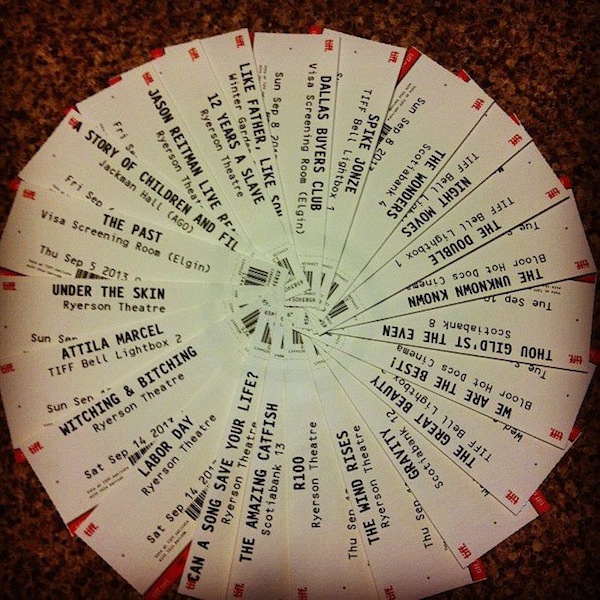 One more round before I go. Here's 21 thoughts on TIFF 2013…
11 days, 28 events, 26 screenings, 22 cups of tea, 5 theatres, 2 pub nights, 1 read-through, 1 Q&A, 1 party, 0 calls to 911
Things got off to a bumpy start when I thought my eyes might need to be checked pronto. Turns out they just needed more rest than I was giving them.
I've said it before, I'll say it again – the people I am hanging out with during this week are making it all so much more fun.
One of these days I'll stop writing/podcasting so I can watch even more films.
Back-to-back Eisenberg on Monday morning reminded me of back-to-back Eckhart in 2005.
Gotta love pausing all things TIFF-related to go home and watch Breaking Bad.
Part of me feels like I didn't see enough documentaries
Toronto's weather in September is usually erratic, this year was no exception.
Turns out the hardest thing for me to do on less sleep is read subtitles – I was fighting the urge to nap each time, regardless of how entertained I was.
Weirdest moment: The guy who arrived 10 minutes late to THE UNKNOWN KNOWN, talked back to the screen throughout, then turned to me at the end to ask what he missed in those opening 10 minutes.
Next year I must remember to pay closer attention to the podcast bed music.
When you enjoy 25 of your 28 screenings, you've chosen well.
I still find myself intrigued and perplexed by Matthew Price's announced retirement.
Is it sick that my first day after TIFF ended I was already back in a movie theatre?
I needed to cleanse the palette mid-fest, so I turned on ZOOLANDER. Stop judging me.
It's amazing how much lighter your bag gets when you aren't carrying both a laptop and a DSLR
I'm still intrigued by the concept of "feminine photography"
There are few things in life as annoying as your website getting buggy mid-festival
There are a few more yet to be uploaded, but for the curious, most of my TIFF photos can be seen here.
Top Five Films seen: 12 YEARS A SLAVE, CAN A SONG SAVE YOUR LIFE?, THE DOUBLE, GRAVITY, and SUNSHINE ON LEITH
Is it too early to start talking TIFF 2014?
Thanks very much for reading and listening these last two weeks. We now return you to your regularly scheduled Matinee.