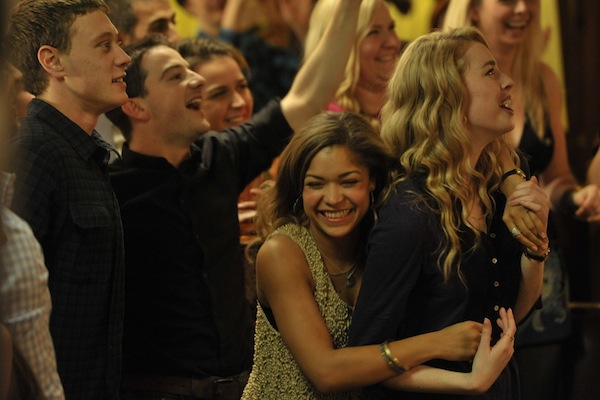 One of the final films I watched at TIFF 2013 was also one of the ones that left me in the best mood.
SUNSHINE ON LEITH is a new musical adapted from the stage show in London's West End. Using the music of The Proclaimers, the film tells the story of three couples. We begin with Rab and Jean, who have been married for 25 years, all of which has passed without Jean discovering a secret about Rab's past. Next we have Ally and Liz. Liz is Rab & Jean's daughter, and has long been in love with Ally – a soldier just back from a tour in Afghanistan. Finally, we're also introduced to Liz's brother Davy, who Liz sets up with her co-worker Yvonne, to much success.
The thing about many musicals – many jukebox musicals especially – is that the plot is usually an afterthought. To paraphrase The Drowsy Chaperone, the plot is just a device to move the production from one song to the next. However, in SUNSHINE ON LEITH, the plot is interested on the various stages of love, and how we move through them as time passes. Each couple uses the music to articulate both the joys and frustrations that come with each stage, and each one seems to learn a thing or two by observing the others.
While I don't claim to be an expert on The Proclaimers, I do know enough of their tunes to recognize that the musical – and by extension the film – has done some lovely things with tracks like "Sky Takes the Soul", "Letter from America", and dare I suggest "I'm Gonna Be (500 Miles)". Many of them have not only been rearranged nicely to serve the show, but have likewise been staged in such a way that gives the film true heart.
SUNSHINE ON LEITH isn't the sort of musical that will define a generation, which is fine, since that's not its aim. What it wants to do is enlighten, entertain, and leave its audience with a song in their head. To that end, the film is a rousing success and a clear indicator of what a movie musical should be. Every cast member finds the truth within their songs, and every number leaves the audience wanting to raise their glass and sing along.
Sometimes we want to sing to celebrate, sometimes we want to sing to mourn. As it is in life, so it is in this film.
This isn't the sort of film – musical or not – that will set the North American box office on fire, and that's a real pity. For how often we complain about Hollywood trying to make a fast buck, we seem to just as often ignore something as joyful as SUNSHINE ON LEITH.
With that in mind, I count myself lucky that I saw it at TIFF, and that it was one of the final films on my slate. It's the sort of film that speaks to me as a fan of movies and music; one that follows its art, its passion, and its heart to wonderful results.