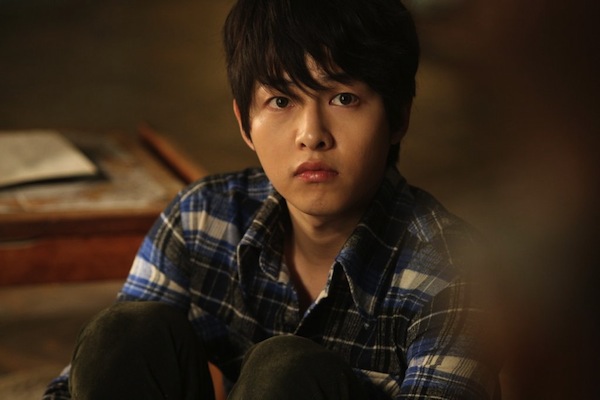 Thursday night brought about my first scheduling switch of the festival. I had a ticket for one film (which shall remain nameless) that I wasn't hearing good things about, so I decided to trade it in for a different screening. I'd been told really good things about this South Korean movie, so decided to give it a look instead.
The lesson I learned is that sometimes you're better off just sitting still and taking your medicine.
A WEREWOLF BOY is about a teenage girl named Suni (Park Bo-young) who moves into a country home with her mother and two siblings. After a few days she notices that the property seems to have come parcelled with an extra inhabitant – some sort of lost boy who acts just slightly more humane than a dog (Song Joong-ki). While she feels timid at first, she actually takes a shining to him, and works to make him a part of the family. Day by day, she learns more about his condition, what special talents he possesses, and what sets off his animal instincts.
Basically, this story is "a girl and her dog". A teenage girl having certain affections for a werewolf might remind one of a certain popular series of films about to wrap up in North America this fall, but this is not of that ilk. While Suni clearly loves the werewolf boy, she doesn't love the werewolf boy. She cares about him the way a person would care about a loyal pet, and that's what gives the film its entire thrust.
What that means is up to you.
If you're the sort of person who is deeply affected by stories of people and their pets – say HARRY AND THE HENDERSONS for example – then you'll likely find this to be a sweet addition to the niche. If, on the other hand, such tales do nothing for you, then this film is going to be a slog. From the moment the werewolf boy arrives on the scene, you'll be able to figure out exactly where it is destined to go. While some of the film's beats are admittedly sweet (I'm not completely soulless), one has to ask themselves if they are in the mood for sweet. On this night, my answer was "no".
The stars of A WEREWOLF BOY – Park Bo-young and Song Joong-ki – are huge South Korean celebrities, so odds are this film is going to rake it in internationally at the very least. Domestically though, I don't see a whole lot of future for it. Besides its unfortunate title, the film will have a tough time attracting its core demographic – the sort who enjoy watching MARLEY AND ME.
The lesson I learned is that even though they entire festival-going experience is a crapshoot given that one has such limited information to go on, sometimes it's better to just take one's lumps.