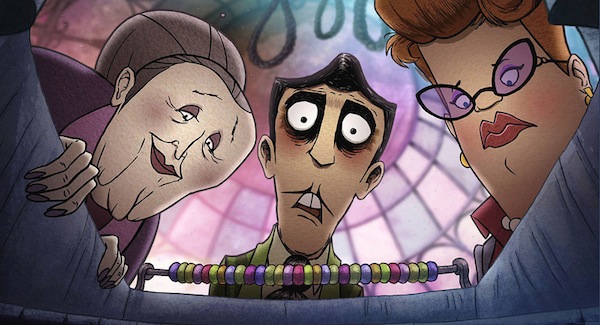 Where TIFF is concerned, I have a rule – if they program an animated film, jump on it. While this rule once left me in a perplexed state of melancholy, it has generally brought me towards some beautiful and charming titles that become just the right tonic in a week of emotional baggage.
Right on que came THE SUICIDE SHOP (LE MAGASIN DE SUICIDES).
The french film, from director Patrice Leconte is the macabre tale of the Tuvache Family (which translated means "You Cow"). The family runs a modest business in a large city: they are the proud proprietors of a suicide shop. It is stocked from floor to ceiling with anything you might need to shuffle off this mortal coil by your own hand. Guns? Behind the counter, each sale coming with one bullet. Poison? How quick and how painless? Nooses? Their best seller, aisle one.
However, life for Le Famille Tuvache gets thrown for a loop when their third child arrives. The welcome the child with open arms of course, but he's just…too…happy. They are selling death, profiting from the depression of society. An upbeat offspring just screws up their whole dynamic. The young boy's plans, and their effect on the rest of the brood make for an amusing 80 minutes.
The film is not without flaw. For starters, it's a musical, and while some of the numbers are cute, they aren't all winners. Matter of fact none of them are memorable. Why the film decided that this story needed the occasional song and dance break is beyond me…especially since most of what's covered could probably been covered with dialogue. What's more, the film decided to go the 3-D route…but then not employ it. There were so many set pieces that probably could have used the effect to great success. Unfortunately, the film gives us neither depth, not extension…so all we did was make the wonderful imagery just a bit dimmer.
What I like a lot about films like THE SUICIDE SHOP though, is the way they go for broke knowing that they aren't making a movie for kids. So the director can tell a tale and use devices like humorous or grim deaths, a little bit of crude humour, and even some animated nudity. It's something that I wish some of the big studios would try their hand at…say through a boutique division so that parents aren't confused why the latest Dreamworks offering is so mature. Look at what Disney was able to do with WHO FRAMED ROGER RABBIT? by kicking it over to their Touchstone brand.
Minor quibbles aside, THE SUICIDE SHOP is delightful, and for me came as the perfect palette-cleanser in between heavy selections. catch up with it if you can, though preferably not in 3-D