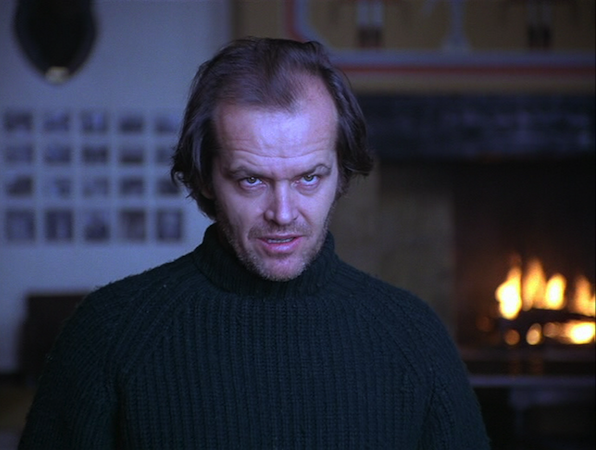 It's pretty well-known by now that my cinematic mantra is "Watch it again". While it seems dickish at a glance, it's actually meant as a chance to watch something with fresh eyes and see things one might not have seen the first time. It's also something of a prayer for films that are maligned upon release, only to be hailed as classics later on. Films like THE SHINING. However, when I advise someone to "watch it again", I'm only suggesting they give it one more look…not the several dozen that the subjects of ROOM 237 have experienced with Stanley Kubrick's 1980 thriller.
The doc speaks to four people who have analyzed the film ad nausem, and they've come back with some wild theories. One sees allusions to The Holocaust, another sees the plight of the American natives. Yet another sees it as Kubrick's confession that he filmed the footage of the moon landing, while one more gets hung up on the film's impossible geography. They have analyzed the film one frame at a time, taken pen to paper to chart the layout of The Overlook, and even watched the film backwards to prove their theories.
The doc doesn't pass much judgement on the theories (well, except for one clever inclusion from the film's script), instead letting the theories be handed over to the audience. The audience I was part of passed a lot of judgements on the theories, even if the documentarians wouldn't. Speaking for myself, I'm stunned by the minutiae these fans have gotten hung up on. Sure, sometimes, a number on a person's shirt is a filmmaker's allusion to something else…other times though, a number is just a number.
One key detail in ROOM 237 that makes it work so well is the way it keeps its interviewees off-camera, and instead chooses to keep the visuals to scenes from the film, along with many more iconic Kubrick images. Sometimes it's a straight lift, such as when the theorist who believes Kubrick staged the film landing cites 2001: A SPACE ODYSSEY. Other times, the filmmakers get more clever, like the moment where an interviewee talks about being frustrated with what he saw in THE SHINING the first time, and the footage we see is Tom Cruise walking away in a huff in EYES WIDE SHUT.
The film is fascinating in how these people have come to their theories, and clearly illustrates their every point and idea. It's also an essay on how nitpicking can go too far sometimes. Sure, the layout of a set might not make any sense when you take think about it for five minutes – but something tells me it isn't a conspiracy or a hidden message. No, I have to believe that it's something a director shrugged off under the proviso of artistic license.
In the case of the subjects of ROOM 237, I don't want any of them to "watch it again". Then again, I don't want them to turn their conspiracy theories on to another movie either. What's a guy to suggest?