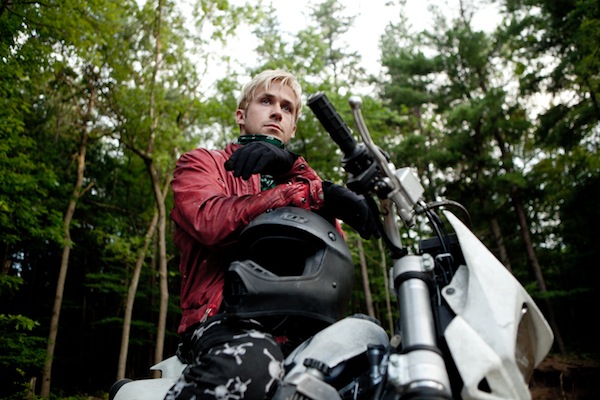 I've mentioned a few times over the last few weeks that TIFF is the only time of year I'm able to go into films truly blind. The information is out there of course, I just choose not to read it. So when I sit down to see a film, I might have a preconception or two, but for the most part I have to buckle in and go along for the ride. Thing is, every once in a while that ride will have drops and loops you aren't expecting…case in point THE PLACE BEYOND THE PINES.
This new film from BLUE VALENTINE director Derek Cianfrance doesn't have a release date, or even a trailer yet, so I'm going to be a little vague in telling you about the movie and its three act structure. Act one is the story of Luke (Ryan Gosling) a motorcycle stuntman at a carnival who learns he has an infant son by way of a casual girlfriend named Romina. To provide for her, he takes to robbing banks. Act two is about Avery Cross (Bradley Cooper), a hero cop who is injured in the line of duty. As his profile rises, he learns that his division is pretty darned rotten. He needs to decide whether to succumb to the dirty water, or rise above it. The final act is about two teenage boys who become fast friends. Unbeknownst to them, they have a common past. The question is how and when they will find out.
Now, I'll wager that at a glance this movie might seem like a sister film to DRIVE, right? Wrong. Yes, Gosling is again playing a character who is automotively inclined, and one that is morally compromised, but that is where the comparison ends. Actually, there is one more comparison – like DRIVE, I have no clue how they will cut a trailer for this film without giving away the whole damned thing. Gosling is great in the film, as he almost always is these days…the question that audiences will be asking themselves is what to make of the rest of the film that doesn't focus on "Handsome Luke".
The film is handsome, raw, and includes some amazing camerawork. However, it also leaves a lot to be desired from its female cast members. In BLUE VALENTINE, Cianfrance went to great lengths to make Michelle Williams' character a living, breathing part of the story. In PINES however, he never seems to give either Eva Mendes or Rose Byrne an awful lot to do. By the time the credits roll, we're left with nothing to latch on to for either character. It's a curious misstep in a film so very character-driven.
A PLACE BEYOND THE PINES is rough around the edges, but it leaves the viewer with an awful lot to cling to. It's a solid offering from an emerging filmmaker – showing growth from his first feature just two years ago, and showing that he still has stories yet to tell.