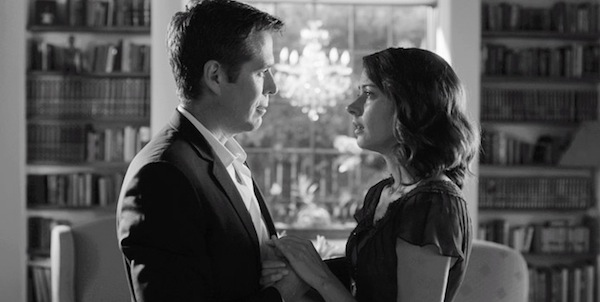 So, imagine you're a movie director. You've just completed principle photography on a gigantic action film – one that is crucial to the success of an entire franchise. After all the work and stress you've put in balancing egos and crafting the script, you score yourself a few weeks' vacation. What would you do with that well-earned R&R?
Well, if you're Joss Whedon, you invite a bunch of your actor buddies over to your house and make a whole other movie.
Shot at Whedon's own house over a twelve day stretch, MUCH ADO ABOUT NOTHING is the director's take on Shakespeare's play about love and deception. Fans of Whedon's various properties will likely revel in this film the most since the cast is stacked with actors from his various properties including Buffy the Vampire Slayer, Angel, Firefly, Dollhouse, and indeed, The Avengers.
Easily the best thing about the film are the two leads, Amy Acker and Alexis Denisof. Both of them seem to best find the rhythm of Shakespearian dialogue, and have the best chemistry with one another. Denisof gets to display some of the best physical comedy in the film, which he does with gusto.
It's actually in the physical actions of the players that Whedon's influence becomes apparent. Obviously, there wasn't very much he could do to the script on this project, which is his usual outlet to add flourish. Instead, he has put little touches in the staging to leave his mark on a script that many have helmed before him, and many more will after. These touches are almost always comedic in tone – a fist-bump here, an ill-fitting jacket there – and every one of them works well.
If there's one thing that left me dissatisfied, it's the look of the film. MUCH ADO has been shot in black and white, which leads to many handsome moments (usually scenes set at night). However, during many of the scenes set in the bright light of day, the tone of the picture seems off. It feels a little flat and ill-lit. We aren't seeing the whites of people's eyes so much as we are the "very light greys". The black and white adds a wonderful aesthetic to the project, so I'm not suggesting that colour would have been better…just that a little extra care might have helped the look that little bit more.
MUCH ADO ABOUT NOTHING is a wonderful little film, and a testament to Whedon's creative energy. In a small way, it reminds me of Jason Reitman's series of table-reads, one of which kicked off TIFF last week. Both projects are being done largely for the love of the game. Neither one stands to make a whole lot of money, but they do give great creative talents a chance to come together and do something different.
Not a bad way to spend one's vacation.