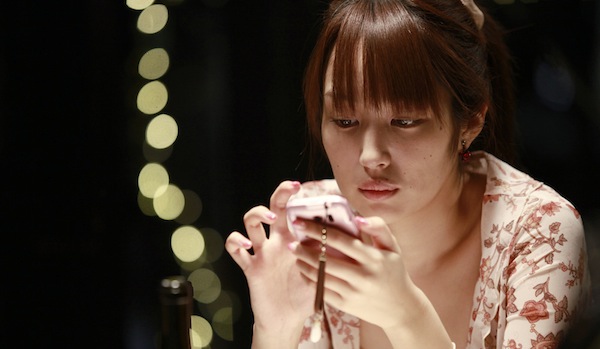 LIKE SOMEONE IN LOVE begins in Tokyo by introducing us to a girl name Akiko (Rin Takanashi). She sits in a busy restaurant arguing with who we presume to be her boyfriend on her cellphone. We can only hear her half of the conversation, and can only deduce that he doesn't trust her. About what, and why are anybody's guess. Moments later she is joined by a man, and we realize that Akiko is some sort of escort. The man is trying to convince her to go see a client, but Akiko is reluctant.
She eventually relents, and meets the client – Takashi (Tadashi Okuno). Takashi is an older gentlemen whose friends and neighbours refer o as "The Professor". While the original nature of their arrangement may or may not have been sexual in nature, it quickly takes on a form of roleplay that neither person expected.
When this film was announced as part of the TIFF 2012 lineup, somebody I know said that it sounded an awful lot like Abbas Kiarostami's last film, CERTIFIED COPY. That film certainly had a lot of fun with role-playing, so much so that we're never entirely sure what we're seeing. This film takes things one step further. It completely eschews forward narrative in lieu of casting the audience as voyeurs in a series of moments. We're often in room, but further back from the action than we'd like to be, and other times we have physical obstacles blocking our view. What's more is that what we're looking in on here feels like less of a story, and more just a sequence of moments.
If that sounds like a bit of a task to watch, well – it was. The film is stunning to look at, and does really amazing things with sound. However, it became clear quite quickly that the natives in the crowd were restless, and weren't getting what they signed on for. I'm told that the film is "Very Kiarostami", so take that as you wish.
For me, LIKE SOMEONE IN LOVE brought a lot of interesting facets, not the least of which is the fact that the story is continually built on deceptions. The movie seems to point out that a lie is never the whole story, but only the beginning of an inevitable sequence of events. To that end, it was intriguing to see the characters ease their way through the various roles and deceptions without so much as flinching. It's as the titular song says: "Sometimes, the things I do astound me".
This movie will not be for everybody, especially if (like me) you are coming to it straight from CERTIFIED COPY.  It is deliberate, deeply subtle, and not so much low-boiling as it is barely simmering. That said, it has some truly fascinating filmmaking and has stuck with me since the moment it abruptly ended.
LIKE SOMEONE IN LOVE plays once more tomorrow – 9:00am at Cineplex Yonge & Dundas. (trailer)