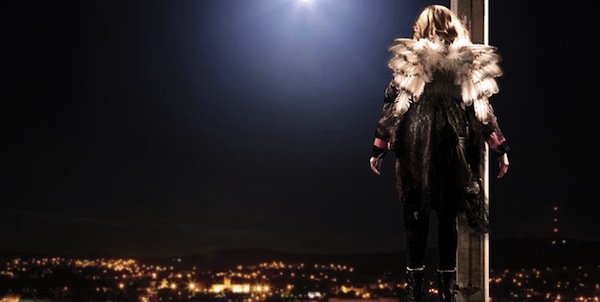 I find it refreshing when a film has trust in its audience. We've become an ADD society obsesses with instant gratification, but that doesn't mean every story should try to adhere to such demands. What's interesting about this Irish offering at TIFF, is that it does drop the audience straight into the fray, but then takes its remaining runtime to patiently illustrate just what sort of fray the audience has been dropped into.
The easiest plot summary is to say that JUMP is the "Irish GO". Thing is, I think that's actually short-selling the film a bit, because I don't believe GO holds up all that well twelve years later (you know where the comment section is). JUMP takes place on New Year's Eve in Derry, and tells the tale of three parallel storylines. In the first, a girl named Greta (Nichola Burley) is battling a serious bout of depression and steps to the edge of the Derry Peace Bride intent on jumping to the icy waters below. Before she can do so, she meets a curious young man named Pearse (Martin McCann), who manages to talk her down.
In the second, a local gangster named Frank (Lalor Roddy) has been robbed. He has video footage of the daring soul who has taken cash from his safe, and he sends two of his top guys after his lost loot. One of the two goons though, has had enough of the criminal life and wants out. Finally in the third story, two young girls named Marie and Dara (Charlene McKenna and Valene Kane), dress up in costume and head out for some partying New Year's Eve. Unfortunately, without getting any partying done, the girls manage to continually find themselves in the wrong place at the wrong time.
What I like most about this clever and airy film is the way it trusts its audience. The film actually slides forwards and back along the timeline, but doesn't give the audience any clear indication that it's doing so (ie, no titles appear on the screen that say "Earlier That Night" or "10:15pm". JUMP asks us to do just that – to jump in and start swimming. The tide will rise and fall from moment to moment, but as long as we keep our arms moving, the film assures us that we will get to shore.
One great thing about framing the film on New Year's Eve is that the film dares to defy the notion that every January 1st is a time for hope and new beginnings. In a melancholy way, the film suggests that it's just another day…and that even though people might want a new start, that doesn't mean that they are going to get one. It's a night of excess, of expectations, and of decadent debauchery…but for what? I made a note during the film that there is something affecting about a person being sad on New Years Eve, but perhaps the people who are sad are the ones who see the night for what it is: Just another night.
JUMP is a wonderful little film that reminds us that it's alright to feel a little messed up sometimes – and that it's better than feeling nothing at all.