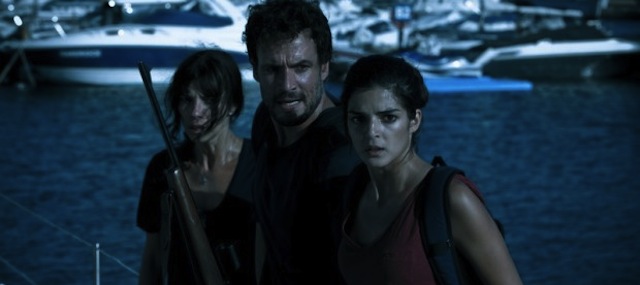 Some time ago, I became a sucker for Spanish cinema. All it took was one watching of ABRE LOS OJOS, and I was hooked. Since then, all it takes is a name like Amenabar, Vigalondo, or Almodovar and I blindly fork over my cash. I'm not quite certain what it is about Spanish cinema that hooks me in…maybe the storytelling, maybe the acting style.
Whatever it is, I always make sure I have at least one Spanish selection in my TIFF programme. This year I have three, and things began on Saturday night with FIN (aka THE END).
FIN begins with the reunion of friends who haven't seen each other for twenty years. Their gathering brings with it memories, confessions, and ultimately revelations. One of the group, Felix (Daniel Grao), throws the balance of the group off just a bit by bringing a woman who is posing as his girlfriend. On the first night of the gathering – right around the time that it starts looking like these relationships might have been better off left in the past – an unexplained celestial event lights up the night sky. In its wake, nothing electronic will work, and the group has to decide what options they have to get to safety.
In some ways, FIN is evocative of TAKE SHELTER. The natural phenomena are there, the fear of what's coming. The biggest difference though, is that in FIN we are certain that what we are seeing is happening – there's no chance it's all someone's nightmare, or a side effect of psychosis.
The eeriest thing about FIN is that after the happening, people begin to disappear. The trailsigns they leave behind are things like have finished card games, abandoned bicycles with still-spinning wheels, and empty cars whose seatbelts are buckled. Such sights would be spectre enough, but when you accent it with roaming animals like vultures, dogs, and mountain goats, what you get is a film that is deeply engrossing.
Perhaps the saddest piece of philosophy that comes into play in FIN, is something one of the last few survivors brings up. In talking about those who have disappeared, she suggests "Maybe they were lucky to get out of this nightmare". When considering events of mass devastation, one doesn't always consider survivors as being the unfortunate ones, but perhaps that is the case. Perhaps there are atrocities in this world that are worse to live through than to fall victim to.
FIN would have been a wonderful watch had it just focused on the unsaid things these friends left in the past, and how those things have affected who each person grew up to be. In taking that group dynamic and dropping it into a story of post-apocalyptic survival, director Jorge Torregrossa has created a visually fascinating take on Ten Little Indians.
The Spanish – they never disappoint.
FIN (THE END) plays tomorrow – 3pm at Cineplex Yonge & Dundas, and once more on Sunday September 16th – 9:15pm at TIFF Bell Lightbox.