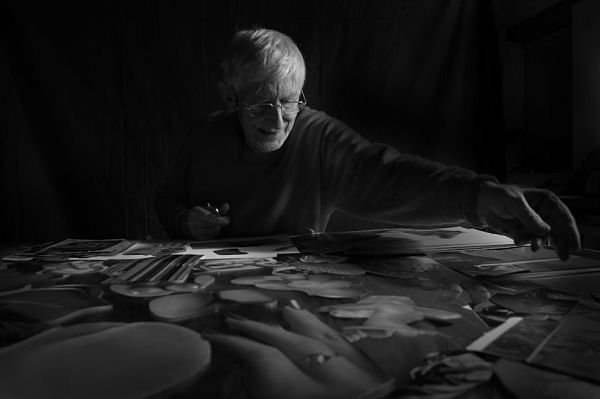 When it comes to documenting the life of a visual artist, the task is often an uphill battle. After all, where do you find enough creative vision to do justice is capturing those with tons of creative vision? Thankfully, certain directors still manage to nail it once in a while.
The debut film by director Brad Bernstein, TOMI UNGERER: FAR OUT ISN'T FAR ENOUGH, takes a deep look at a man whose entire life has been dedicated to establishing identity, overcoming fear, and creating wonderful, iconic, and provocative art.
The film has Tomi himself telling us his life story: sitting in his studio, bathed in daylight, surrounded by dozens of curious objects. He begins with his childhood in war-torn France, continues through his young adulthood that took him to New York City, and brings us finally to his later years where he moved to Ireland to raise a family.
Through every step of the journey, Tomi expressed himself the best way he knew how: with a pencil and a blank page. To give every one of these wonderful pieces of art their due, the film incorporates them well – often going so far as to animate them to life.
Ungerer's work comes with quite a wingspan. He rose to notoriety by creating children's books. One is about a snake named Crictor, one about The Three Robbers, with many more through the years. He also became inspired by the cultural revolution he saw happening around him in America and created some charged and inciting protest art. Finally, he also found himself fascinated by expressions of erotica; creating playful and rousing pieces in that arena.
The film is quite an achievement for first time director Brad Bernstein. The conversations are honest and illuminating, and find a wonderful balance between telling Tomi's story and illuminating his philosophies. Perhaps most interesting are his notions on a child's response to fear. He believes that one has to know fear to tame it, and considering the many conversations I've had through the years about the unexpected fright factor of so-called family friendly films, I have to believe he's on to something.
The film is brimming with reflection, whimsy, and artistic soul. It is a master class in artistic technique and observing the human condition. Its second half feels like it finds a better gear than the first, however that first half is crucial in learning of Tomi's beginnings, and likewise crucial to understanding what he wants to say.
The takeaway from the film is a lesson in self-understanding and ambition. Tomi wants us to understand that everything about us is valuable – our flaws, our fears, our demons. Every virtue and vice we have in our character can be a source of great things, help us develop a better grasp on the world around us, and perhaps even contribute something valuable to it. Furthermore, he wants us never to be content to rest on our laurels (hence the film's cheeky title).
He believes that any challenge – if it's a worthy one – must immediately be followed by another challenge. Words to live by, if ever there were some, by this mischievous philosopher.
FAR OUT ISN'T FAR ENOUGH: THE TOMI UNGERER STORY plays tomorrow – 9:30am at Cineplex Yonge & Dundas, and once more on Saturday September 15th – 4:30pm at Cineplex Yonge & Dundas. (official website)