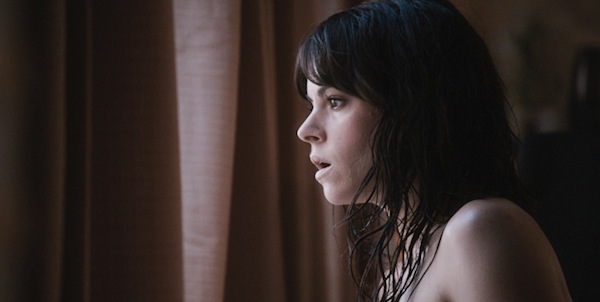 "Don't be afraid to get dirty"
We've come to a place in time where women feel comfortable reading 50 Shades of Grey on a subway. It's a place where there is no shame in saying openly that one wants more than "vanilla sex". That's great in theory, but when one's partner isn't built that way, it can lead somewhere pitiful, disappointing, though oddly amusing. That's the crux of MY AWKWARD SEXUAL ADVENTURE.
The film is the story of Jordan (Jonas Chernick). He's an accountant who has been in love with his girlfriend Rachel (Sarah Manninen) since the moment they met as friends in university. Now, at the moment he's ready to propose to her, she turns him down flat saying that he bores her sexually. She suggests they take a break, and that he go visit friends in Toronto alone. While he's there, an odd set of circumstances introduces him to a stripper named Julia (Emily Hampshire). When she reaches out to him in kindness, he sees an opportunity since her life is a mess financially. Jordan proposes a deal – he'll get Julia's bills straightened out if she'll teach him to be better in the sack. Talk about win-win!
This movie is really funny, thanks in large part to the writing and acting skills of Jonas Chernick. The simple fact is that in this weird time we find ourselves in, when so many want "something more" sexually, the reality that their partners aren't wired that way is getting lost in the shuffle. Chernick's script takes it one step further, suggesting that Jordan is so boring in the sack that he puts Rachel to sleep mid-coitus. So how does one fix that? Well, as the film explains, it's not just a matter of giving him a few meters of solid rope and a knot-tying handbook. It relies on completely rewiring the would-be luvre man, and even then having some patience while he practices his new skill set.
The chemistry between Hampshire and Chernick is splendid, with the former really taking to her role as "Sex Yoda". She's never too aggressive, and finds a nice mix of friend and mentor to this sad little puppy who stumbled into her strip club. The great thing about their business arrangement, is that it actually allows them each a chance to take the lead…each taking turns as the submissive, if you wanted to continue the sex metaphor. What this does is allow them to egg each other on, becoming a true team standing in contrast to the bad situation Jordan has with Rachel.
The movie is a well-concieved and well-executed romp. The way Jordan bumbles through his sexual education is endearing, and the way Julia sticks with him is inspiring. The guy isn't able to find an erogenous zone with two hands, a map, and a flashlight. Not only is it really funny to watch him stumble his way along the path, but it's endearing to see Hampshire walk next to him with a compass.