We've reached an interesting crossroads in terms of the substances we are putting into our bodies. With more and more people being diagnosed with depression every year, it's no small secret that there are dozens of antidepressants to choose from out there. While these chemicals do help stabilize some of the truly scary feelings many people have, you have to wonder about what else these concoctions are doing. Is the depression worth the weight we lose or gain? The sleep we miss? The clarity of thought we cannot find?
Heck, how long until these side effects bring about a problem worse than the depression?
SIDE EFFECTS is the story of Emily Taylor (Rooney Mara). Taylor is married to Martin (Channing Tatum), an investment banker who is finishing a four-year prison sentence for insider trading. Not long after he is released, Emily finds herself fighting some clinical depression. The demons quickly overtake her one afternoon when she drives her car headlong into a concrete wall.
As she is being treated at the hospital, she is approached by a psychiatrist on-call named Dr. Banks (Jude Law). He is quickly able to identify her accident as a sign of depression and offers to take her on as a patient. Initially, Banks puts Emily on a daily dose of Zoloft, but that seems to be coming with too many side effects and doing more harm than good. In an effort to put together a few more of the pieces, Banks approaches Emily's previous shrink, Dr. Siebert (Catherine Zeta-Jones). Siebert fills in a few of the blanks, and even suggests Banks consider forsaking Zoloft for a new anti-depressant named Ablixa.
Law takes the suggestion and runs with it, prescribing the Ablixa to Emily. At first the drug seems to be a cure-all: Emily is much happier, clearer-of-mind, and even has an increased libido. However, the Ablixa comes with its own side effect: Emily takes to sleep-walking. Eventually, her sleep-walking causes a bad accident, and both Emily and Banks are left to deal with the consequences of the side effects.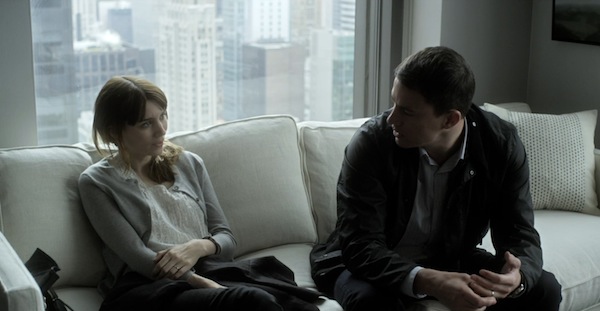 When SIDE EFFECTS is at its best, it runs headlong at the blurry mess that comes with trying to treat depression. The film unwillingly pulls us through feelings of isolation, contention, melancholy, and destruction…and then dumps us in a chair to watch the world judge us. In these moments, it uses sound and image to put us squarely into Emily's shoes, to feel what she feels as she struggles to get a grip on her mental state. As she finds herself in various situations where she is able to do herself harm, we not only feel for her as she fights the urge, but we understand where the urges come from.
Many other films will use a lot of heavy trickery to get the audience into this sort of head space. SIDE EFFECTS does it with a deft hand, and is helped in no small part by an impressive turn by Rooney Mara. It's not easy to embody a character as damaged as Emily is, especially since the role can easily be bent into a melodramatic shape in the wrong hands. Mara internalizes much of the struggle and puts it into her eyes; sometimes those eyes look out lifelessly, sometimes they look quietly panicked, sometimes they weep softly. Every look she gives us makes us want to walk up to her and ask "Are you OK?"
…Well, except for a look or two late in the film, but I'll leave that to be discussed later.
Details such as those are what make SIDE EFFECTS work – but the film does not always work. Without giving too much away, the film sometimes feels like it is trying to be too much for too many. That portrait of mental instability that I described in the early-going is dispensed with after the first act. We then watch as Emily and Banks try to deal with the fallout of the crisis created at the end of the first act, and ultimately move into something altogether different for the film's conclusion. The winding road the film walks us down makes for a half-decent element of surprise, however much of that surprise takes away from the maturity and subtlety that the film wielded so well in its opening.
I'm always happy to be surprised, and certainly enjoy seeing a film blend genres…but in this case it detracts from what was working. So much so that it almost drags the whole thing down.
I dare say the film succeeds despite itself. Even in its lesser moments, it's still so darned handsome. Likewise, those lesser  moments still keep our focus on Mara and Law, both of whom are compelling enough to overcome the material's shortcomings.
The muscle of side effects undoubtedly comes from its portrayal of depression. It's a difficult state of mind to capture, and an uncomfortable position to put one's audience in. While it's something that so many people in the world deal with daily, it comes with so many intangibles and is difficult for those who don't deal with it to understand. To make a film about it is almost a fool's errand, and yet Steven Soderbergh was able to pull it off. It's a pity he decided to eventually let us out of Emily's shoes…even if it was a merciful decision to make.
Matineescore: ★ ★ ★ out of ★ ★ ★ ★
What did you think? Please leave comments with your thoughts and reactions on SIDE EFFECTS.