You might not have noticed, but there is a seismic shift happening in the way that the movies we watch are made and presented. Film – emulsion based material that is run through a camera to capture a moving image, turned into a positive image, and then run through a reel projector – is slowly dying. In its place, digital – films captured on electronic sensors, rendered on computers, saved to a hard drive, and presented on a data projector – is on the rise. This shift was very slow in coming, and didn't arrive without a lot of naysaying…however, the tipping point might have arrived.
The question we as moviegoers should be asking ourselves is whether this is a good thing, and it's the question a new documentary named SIDE BY SIDE attempts to answer.
Directed by Christopher Kenneally and hosted by Keanu Reeves, features interviews with dozens of directors, editors, effects wizards, and directors of photography from all sorts of films past and present. Some are staunch believers in the standard set by film. Some are enchanted by the possibilities opened by digital. Some have been converted, some are staunch believers. Discussion details all steps of the filmmaking process and shows us a before and after at every step.
So where does the film come down on the question of film versus digital?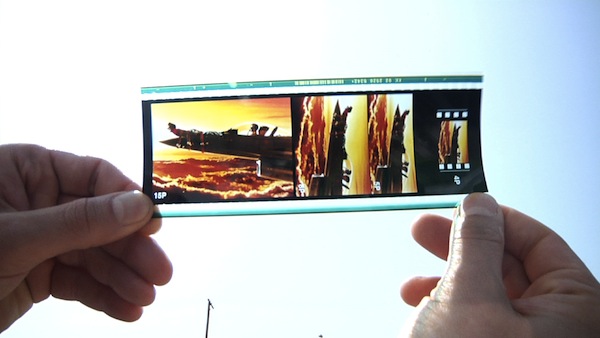 Fittingly, it doesn't definitively answer the question. Instead, it fosters the discussion, as is the case with many great documentaries. With that said, by the time the film is over, there aren't that many left in the pews of The Church of Film. Most notably is Christopher Nolan and his DP Wally Pfister. Considering two of Nolan's last three films have employed IMAX cameras, this shouldn't come as a huge surprise. For both Nolan and Pfister, the allure is in the quality that film allows – something digital has come really close to, but hasn't achieved quite yet. Nolan wonders aloud whether we as consumers have been suckered into false advertising in the digital revolution. Nolan compares digital filmmaking to Chips Ahoy's Soft & Chewy cookies, that included a chemical to give them the texture of being fresh-baked. Do we as audiences clamour for digital because it's fresh out of the oven, or because that additive makes it taste that way?
While Nolan might have a point that film isn't quite there yet, he isn't alone. Lots of high-profile films from THE HUNGER GAMES to MONEYBALL were shot on film in recent years, and if this documentary has a flaw, it's that believers in stock like Steven Spielberg and P.T. Anderson couldn't contribute to the discussion. Still, the flock is dwindling with each passing year, and the main reason is that the quality of digital is getting better and better.  For proof, dig up a blu-ray of 28 DAYS LATER. Compare its cold, pixelated, low-res look to the vibrance of SLUMDOG MILLIONAIRE. Those two films were shot by the same DP, using the latest and greatest he had available to him…just six years apart.
Predictably, leading the charge for digital are directors like George Lucas and James Cameron. What's interesting though is the way they classify digital filmmaking: they see it as a tool – a means to an end. They don't necessarily call it "better", so much as they underline the possibilities. Perhaps in the media they have seemed as though they are cramming the new down everyone's throats…but the doc points out something we might never have known, or have since forgotten. Lucas and Cameron had to yell that much louder for the advancement of digital filmmaking because there were a lot of detractors. People within the industry thought these filmmakers were trying to force something inferior upon everyone, when the truth of the matter is that they were just trying to open people's eyes to possibilities.
Digital filmmaking has had an interesting effect on audiences. In many ways, I believe it has jaded a new generation to the achievements of the greats. They have no respect for what was done practically because they've grown up in an age of digital effects. Seeing hundreds of Arabs storm Aqaba doesn't impress a young film watcher because they saw Peter Jackson create hundreds of orcs with a MacBook Pro. These shots don't resonate for this generation of filmgoers, because they're used to cameras being a smaller size. What's even more interesting is the lack of respect for shots in new films  - again images that younger audiences think "were special effects". Well no – often these amazing images are practical shots, footage that never could have been captured before. Still, to many it's met with a shrug.
Listening to the directors speak about what drives them as artists in SIDE BY SIDE is fascinating. Lana Wachowski wonders if film will continue to influence filmmakers because "archeology always inspires". Then there's Robert Rodriquez who sums up the symbiotic relationship between the carpenters and their tools. He's the one to point out that "technology pushes the art, and art pushes technology". For me though, the quote of the night came from Steven Soderbergh who said that when he first saw what the RED camera could do, he felt the urge to "call film and tell her I'd met someone".
Ultimately the question of "what's better" is unanswerable – it could only be determined by capturing the same material on film and digital and presenting the results (as the film's title alludes to) side-by-side. If you ask me, film has a lovely aesthetic, and  has given us some amazing pieces of art through the first century of film. However, I believe some of its allure is romantic, and some is psychosomatic (actors talk about concentrating harder when they hear film whirring through a camera). Digital has come a long way in a short time. It has opened up possibilities previously unimaginable, and has made the art form more accessible to up and coming filmmakers.
SIDE BY SIDE might not come down in one camp or the other, but for me the answer is clear.
SIDE BY SIDE is available on-demand and currently showing in select cities around America. For full details, check out the film's official website.
Matineescore: ★ ★ ★ 1/2 out of ★ ★ ★ ★
What did you think? Please leave comments with your thoughts and reactions on SIDE BY SIDE.