In the 1999 film THREE KINGS, Major Gates makes a modest suggestion about The Most Important Thing in Life. The character, as played by George Clooney, suggests that the most important thing in life is necessity – as in people will do what is most necessary to them at any given moment. That theory could apply double for professional sports where millions upon millions are spent on athletes in the hopes of winning championships. Necessity sparks teams to outrageous contract offers, implement peculiar positioning, and keep enough statistics to make your head spin.
Necessity can also prompt the athletes to employ some rather unorthodox tools, and there are few tools more unorthodox than the knuckleball.
KNUCKLEBALL! is the latest documentary from directors Ricki Stern and Annie Sundberg (JOAN RIVERS – A PIECE OF WORK, THE DEVIL CAME ON HORSEBACK). In chronicling one of the more unusual elements of baseball, they couldn't have chosen better timing. The film documents the 2011 season, where two knuckleballers suddenly had the baseball world's attention, but for two very different reasons.
Knuckleball pitchers are a rare breed. In 2012, over 450 pitchers took the mound in a major league game. Of those 450, only 1 throws a knuckleball. The pitch is thrown with the fingertips in a  manner that denies the ball any spin on its path to the plate. The result is a floating, swooping, diving offering that is rather unpredictable to for the batter, the catcher, and sometimes even the pitcher himself.
In Boston, Tim Wakefield was beginning his nineteenth season in the majors. A fixture at Fenway Park where he pitched seventeen of his nineteen years, Wakefield was defying Father Time everytime he took the mound in 2011. At 44-years-old he was the oldest player in the league, a luxury throwing a knuckleball allows. As the film begins, he is clearly looking back on his career, and has hopes of reaching a milestone or two before the season ends.
In New York, R.A. Dickey has caught on with the Mets after knocking around the pro baseball scene for fourteen years. In that time he's pitched for four different major league teams and more minor league teams than I care to count. However, the fates have smiled on Dickey, and he begins 2011 with a sense of guarded optimism. There's a buzz around him, leading some to believe that he has finally harnessed the unpredictability of the pitch.
Others meanwhile, believe that he's just one more sideshow on a brief stop before heading on out-of-town.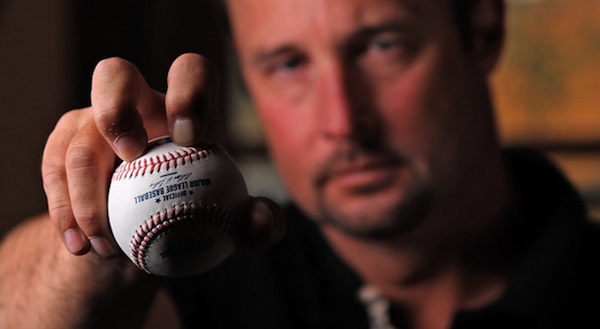 KNUCKLEBALL! is not just a biography of these two fascinating pitchers, but a philosophical examination of their unconventional trade. We live in a society obsessed with instant gratification and tangible results. We are lured and seduced by power and speed. A knuckleball goes against all of that. It is slow, methodical, and wildly unpredictable. Sometimes it will be all but unhittable; other times it gets tagged all over the ballpark.
The film wants us to understand that the trick to being a knuckleball pitcher is about more than the mechanics of throwing it. The trick is to be patient, persistent, and put faith in the unfamiliar. It gives the athletes who use it a rare sort of humility and calm. While they occasionally get to soak up a moment or two in the sun, they realize that their lot in life is to be shuffled around the lineup, and sometimes the league.
But KNUCKLEBALL! knows this as well as any of its subjects, in part because it gathers many of the knuckleballers together and listens in while they swap stories. Dickey and Wakefield are joined by Charlie Hough and Phil Niekro to discuss the peculiarities of their trade, and in these scenes a real fraternity is evident. These men are clearly cut from a particular cloth, and get on so well that they might as well have a secret handshake (they probably do). If I had a wish, it's that the film was able to gather a few more of them, and come back to them a bit more often.
I've realized that there's an asterisk that must be attached to my review of KNUCKLEBALL!: That I'm probably the wrong person to critique this film objectively. I'm a believer in the church of baseball, and as such I sit down predisposed to love this sort of documentary. My love of the game works in stark contrast to Stern & Sundberg's last feature documentary about Joan Rivers. I really did not care for Rivers' persona when I sat down to watch that film. Not only was I quite entertained by the film, but it even gave me a newfound respect for Rivers and her work ethic. I have no such trepidations towards baseball, so it's a little difficult for me to definitively say whether this film will engage those who aren't sports fans, or whether it was preaching to the choir.
This lush, and well-executed doc is about more than baseball – it's about finding the fortitude to push forward. It's about knowing when to push one's limits, and when to downshift and employ patience. The film is a love letter to what some might decry as a gimmick, but what those with creative thinking would call ingenuity. As the film gets into its final act, one of the veteran knuckleballers explains the path to success as "being able to accept losses without being defeated".
I defy you to find a better piece of life wisdom.
KNUCKLEBALL! is available on-demand and currently showing in select cities around America. For full details, check out the film's official website.
Matineescore: ★ ★ ★ out of ★ ★ ★ ★
What did you think? Please leave comments with your thoughts and reactions on KNUCKLEBALL!