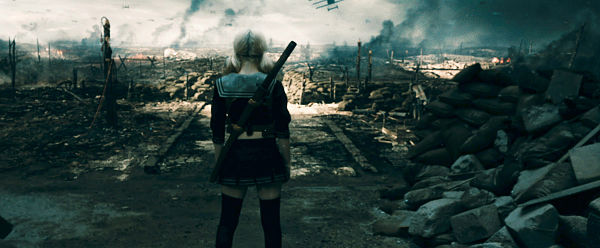 Twice in the last week, my attention has been turned back to SUCKER PUNCH.
First, on Matineecast 77 my friend Steve Johnston mentioned it when discussing the track record of Zack Snyder. When I mentioned my utter disdain for the film, Steve used my own mantra against me and suggested I watch it again.
Just days later, a somewhat smarmy though well-intentioned video was posted on /Film where Adam Quigley presented the film as a misunderstood vessel of female empowerment. His theories might be present within the films narrative (though I disagree), but to me that didn't change the fact that they are buried under layer upon layer of melodramatic, effects-driven, fanboy wankery.
My reactions to these suggestions then prompted my friend Jess Rachel to question the universality of my mantra. Specifically, she asked "When is it OK not to watch it again"?
A good question. After all sometimes a turkey is just a turkey.
So here is the criteria. If you ever hear me, or someone like me, suggest that you watch something again, run down this little checklist.
Can you answer all of these questions with a "yes"
For films designed on an epic scale, did you see it in a theatre?
Was your audience well-behaved?
Did you watch the movie until the end?
Were you paying attention throughout the film?
Did you approach the film intending to like it?
Really?
Were you well-fed and well rested when you started the film?
Comfy seating?
Is the film's cast completely devoid of athletes, wrestlers, or rock stars?
Did you "get it"?
Can you answer all of these questions with a "no"
Did you pause the film midway through so you could watch the finale of The Voice?
Did you find the film personally offensive?
Were you watching it as "homework" (ie, for blogging/podcasting purposes)
Is the person recommending you watch it again a fan of the property?
Is the person recommending you watch it again being a dick about it?
Are the reviews for the film overwhelmingly negative?
Is your reason for disliking the film "It was boring"?
Did you watch the film in a room full of people who drowned it out with discussion about how "OMG, Sally came into my office today and was all WTF?" ?
Were you watching the film to complete some sort of list (AFI 100, S&S Top 10, etc)?
Did you watch the film on your phone or tablet?
Congratulations – if you can do all of that, you're in the clear. You never need to watch the film again.