They say that revenge is a dish best served cold. What they don't say is that before you chill it, there are a lot of things you have to throw into the pot. Besides beginning with a large quantity of anger, you have to include a cup or two of despair. After that, go with a few teaspoons of determination. Dice up some poetic justice, and let it all simmer on low heat. Just before it's served – ice-cold, remember – add one final ingredient for the best possible result:
Patience.
DJANGO UNCHAINED begins in Texas, two years before the American Civil War. One night a man named Dr. King Shultz (Christoph Waltz) meets up with a pair of slave drivers. The meeting begins as a business proposition where Shultz wants to buy a particular slave from the men, and ultimately ends in bloodshed. The catalyst of the situation is Django (Jamie Foxx), a slave Shultz takes under his wind in the hopes of identifying three criminals with a bounty on their heads.
Shultz in fact is no longer a doctor, but instead has been a bounty hunter for some time. His plan is to take Django under his wing, since Django can visually identify the three men Shultz is currently chasing. As he enlists Django, he confesses that he does not agree with the entire idea of slavery, but plays along to serve his own needs. He offers Django a deal: Should he identify and help kill or capture the three men Shultz is chasing, Shultz will cut him in for seventy-five dollars, and grant Django his freedom. To this Django makes a counter-offer: along with everything already stated, Shultz will help Django find his wife Broomhilda (Kerry Washington), whom Django was separated from some time ago.
As Django and Shultz do indeed catch up with the three men Shultz is chasing, Django proves invaluable in both getting to them, and ultimately killing two of the three slave drivers. Impressed by Django's attitude and lethal skill, Shultz suggests that Django join him as a bounty-hunting partner through the winter, and that come spring he will fulfill his promise regarding Broomhilda.
When time comes to make good on that promise, the men make their way to Candyland – one of the biggest plantations in Mississippi. The place is the property of Calvin J Candie (Leonardo DiCaprio), a man who is not only interested in his vast cotton crops, but also in a form of vicious slave-fighting. Upon meeting Candie, and his head house-servant Stephen (Samuel L. Jackson), it becomes clear that getting Broomhilda out will take a bit more than just brute force.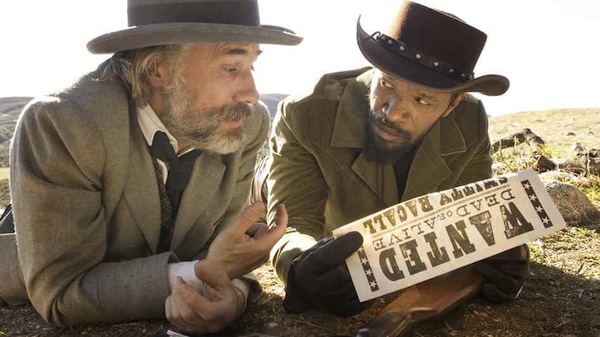 Director Quentin Tarantino has made his bones by breaking apart bygone films and re-arranging the pieces in interesting ways. While that might seem like standing on the shoulders of giants, I believe what Tarantino does is more than that. I believe the art form he has honed over his twenty-year career of writing and directing is less a form of pastiche, and more a form of cinematic mosaic. The style he has honed brings together fragments from various genres to create something that feels both familiar and fresh at the same time. What's more, this medium Tarantino has taken to is not nearly as simple as it seems. It requires a very specific chemistry that many have tried to duplicate without success.
The question at hand is how well the style Tarantino has developed works for DJANGO UNCHAINED.
There are a lot of moments in the film the seem to ride the line of what is and is not offensive. Since slavery is set in the south just before the Civil War, slavery and racism are front and centre throughout the film's lengthy runtime. It leads one to wonder whether it's disrespectful to set a film that aims strictly to entertain amongst such terrible circumstances.
In many ways, I don't believe that it is disrespectful. The film specifically makes an effort to underline the atrocious inhumanities slaves were subjected to, and does not play any of it for levity. The film even goes so far as to delve into the reverse-racism of the era on the subject of house servants. What's more, it uses that reverse-racism to build one of the most deplorable characters of the year. While the dialogue never does seem to stop being jarring with its use of a particular word, I don't believe that the story comes from a place of ignorance or ill-intent. Thus, the setting of this film works for what Tarantino wants to do…
…by the narrowest of margins. Should other directors try to follow in Tarantino's footsteps, I'd be reminded of that old saying: "Kids, don't try this at home."
Building on top of that terrible setting, DJANGO UNCHAINED allows our hero to continually evolve. With each subsequent situation he gets into, he is forced to adapt. While his arc is ultimately one of revenge, it isn't a vengeance that will come easily. It doesn't take much for Django to tap into the hostility he has built-up as a former slave, but what does take a bit of doing is Django's sense of patience. It's moments like the dinner with Calvin Candie that really emphasize both how much patience Django is required to exert, and how well Jamie Foxx embodies it. With his every look and gesture, we see a man who is wickedly tense, but who has put his trust in the greater plan.
What is all the more interesting is Django's fate when the Candyland sequence plays out – a sequence of events I won't reveal. What I will reveal is that it forces our hero to evolve one more time, and what ultimately seals his fate.
The style Tarantino has developed works well for DJANGO UNCHAINED. Not only has he blended film genres like revenge, western, and blaxploitation well to give us something that feels both familiar and new, but he has grafted it all on to his own genre of very talky pictures that build up to explosions of brutal violence.
In a way the revenge fantasy that is DJANGO UNCHAINED makes for a fitting double-feature with Tarantino's previous film, INGLOURIOUS BASTERDS. Both films present alternate histories, and both films involve oppressed people rising up to take down their oppressors. In both cases, Tarantino has managed to ultimately duck controversy, mostly because he allows the oppressed a moment of visual catharsis to cushion the blow. While I don't know how much longer he can keep up the act, Tarantino has returned for now with another incredible watch.
DJANGO UNCHAINED puts a lot of things into the pot: great music, terrific performances, beautiful photography, and a daring structure. When all these ingredients come together, it makes for a delicious bit of cinematic revenge.
Matineescore: ★ ★ ★ ★ out of ★ ★ ★ ★
What did you think? Please leave comments with your thoughts and reactions on DJANGO UNCHAINED.