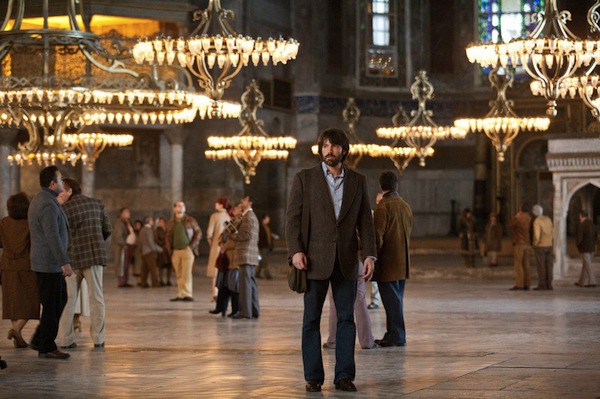 And then there were two.
The field for Best Director feels like something of a motley crew if ever there was one, and in this fab five, there is one person who can completely consider himself just "honoured to be nominated": Benh Zeitlin. His career has been given the biggest boost one could ever expect after one's first feature, and Zeitilin can consider himself in line for great things. However if his name gets called when that envelope is opened, I will eat my hat.
Michael Haneke does have a snowball's chance in this category, but the puddle under that snowball is growing fast. While the extra nominations the film picked up are a great sign, and it's chances in categories like screenplay and actress aren't entirely remote, it hasn't picked up enough steam in the past few weeks to pull off this level of an upset.
That leaves the three true contenders: Ang Lee, David O. Russell and Steven Spielberg. Three men I'm willing to say have almost an equal chance of walking away with this prize.
O. Russell is the slight trailer primarily from the fact that he isn't as well-liked, and his film isn't as showy. That this is his second Oscar nomination for directing in as many outings is a great sign, and an unforeseen groundswell of support for SILVER LININGS PLAYBOOK could carry him. However, it's more likely that he'll have to wait until "next time".
Ang Lee has positioned himself very well to pick up his third trophy, and his second as Best Director. Oscar audiences really connected with LIFE OF PI, as is evidenced by the fact that it drummed up the second-most nominations. The balance that he brought to an "unfilmable" novel, and the deft touch he gave a movie that primarily had its cast acting against tennis balls cannot be understated. He stands as good a chance of taking this award as anyone.
As for Steven Spielberg, conventional wisdom would say that this is his time. LINCOLN arrived with the most nominations, and is seen by The Academy as one of the man's greatest films. It's been fifteen years since he last graced Oscar's stage, and for many, it may be "time". Others might be turned off by the films understated approach, or for its (oft-called-unneccessary) final fifteen minutes. However, it's entirely possible that Spielberg becomes just the fourth director to have three or more trophies.
Ryan's Pick… Spielberg in a photo finish over Ang Lee.
Best Picture, seems poised to hand audiences the unusual. The general rule of thumb is that if your film didn't get a directing nomination, you aren't poised to win Best Picture. This year however, it seems as though that rule is about to be broken.
Once again, can easily be divided into tiers.
Tier One: The Also-ran's. LES MISERABLES, DJANGO UNCHAINED, AMOUR, ZERO DARK THIRTY, BEASTS OF THE SOUTHERN WILD. None of these films have built any sort of support through the campaign season, and in an era of tiered balloting, they don't come with the widespread love needed to garner a win.
Remind yourself that Best Picture is now the product of a preferential ballot, so there's no such thing anymore of taking advantage of vote splitting. In the past this could have helped som of these offerings, but it is now a non-factor.
Tier Two: The Spoilers. LIFE OF PI and SILVER LININGS PLAYBOOK. As films with directing nominations, they have to be considered "in play", though from a distance. Both films have their supporters, and both films could potentially get on a roll – especially if either one were to snag Best Director. Best Picture for either one aren't all that likely, but weirder things have happened.
Tier Three: The Contender. LINCOLN. Let's pretend for a moment that what we think will happen, doesn't happen. Let's pretend that all of that ARGO backlash did enough damage, and that voters weren't swayed to give the award to a good film that was directed by "a good guy who was overlooked in his category". It is plausible that the film with the most nominations (a whopping 12) does what it was supposed to do and takes top prize. The only reason to think this might happen is the old rule that films that don't get directing nominations don't win Best Picture.
Tier Four: The Gimme. ARGO. Coming into nomination morning, there were three or four films considered to have a realistic chance at Best Picture. Then "Holden McNeil" didn't get a directing nomination. Suddenly, every award-giving body felt the need to rally around the man in a show of support and disbelief for the nuttiness. From that point outward, ARGO has ran the table with momentum usually reserved for films about Slumdogs. To bet against it is to take long odds…but there's always that teeny chance that the old directing adage rears its head.
Ryan's Pick… Argo. To the surprise of nobody.
Whaddaya think folks? Leave comments with your own thoughts on possibilities and predictions of the Directing and Best Picture races.