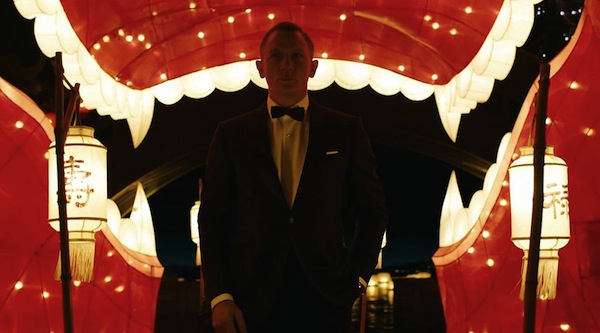 This past weekend, my friend Simon Columb started a dialogue – first on Twitter, than on a post all its own – about the Oscar odds of SKYFALL.
I'll start now by saying what I said then: Nominations in tech categories are likely, perhaps even Best Song (though I don't think that Adele track does anything special). That said, anything in "The Big Eight" (acting, writing, directing, picture) isn't happening.
I haven't seen the film yet, and I understand that it has been received very well by those who have. However, "This is a great film" and "This is an Oscar contender" aren't the same thing. I don't know why I feel the need to throw cold water on this today, but allow me to explain.
The thing about The Academy, is that they have particular tastes and habits. Remind yourself that these are people who work in film, so the time they have to sit down and watch film, is limited at best. Are they going to make an effort to see SKYFALL before their nomination ballots are due? Maybe…maybe not. Even if they do, the fact is that so far 2012 has been a pretty good year for movies. We've already had THE MASTER, MOONRISE KINGDOM, ARGO, and BEASTS OF THE SOUTHERN WILD. Still to come we have contenders like DJANGO UNCHAINED, LES MISERABLES, THE HOBBIT, THE LIFE OF PI, and ZERO DARK THIRTY. So for a 007 film to make its appearance at the big dance, it needs a few of these films to go ignored and needs to hope that another film doesn't leapfrog it.
Now it was brought to my attention that many precedents where Best Picture are concerned are moot because we are only three years into the larger best picture field (9 – 10 nominees, instead of the traditional 5). True, it's a little harder to nail down what's coming, but I would offer this. In the three years since the BP field expanded, they haven't used those extra slots for fan favorites. Instead, they have used them to honour more of the usual suspects like A SERIOUS MAN, EXTREMELY LOUD & INCREDIBLY CLOSE, WAR HORSE, THE BLIND SIDE, 127 HOURS, and MONEYBALL. Remember last year when everyone was clamouring for HARRY POTTER to get a nomination? How about DRIVE.
This is a particular group with particular tastes, and sure mainstream offerings like UP, TOY STORY 3, and DISTRICT 9 made the jump…but they are the exception…not the rule.
My friend also brought up the fact that SKYFALL comes packed with a lot of Oscar prestige – with Oscar winner Sam Mendes directing, Oscar winners Judi Dench and Javier Bardem acting, and nominees Conrad Hall and Ralph Fiennes involved. If prestige were a guarantee of a nomination, then NINE would have represented handily two years ago. Perhaps PUBLIC ENEMIES would have made more noise. Or hell, look at the Oscar nominees populating the Harry Potter franchise. Sure, sometimes assembling a dream team can help your chances…but in the end, your project still has to execute (which I'm told SKYFALL does) and resonate (here's where we aren't sure).
An Oscar site that I check in on occasionally puts it best: "The trick is not minding". Is SKYFALL potentially one of the ten best films of the year? Sure. All things being equal, should it qualify for prestigious Oscars? Perhaps. But we aren't talking about the reactions of the general populace, or even a body of critics. We are trying to predict the mindset of 6000 people who don't watch all that many movies with a median age above 60.
The odds that SKYFALL makes the jump are long at best. Don't say I didn't warn ya.