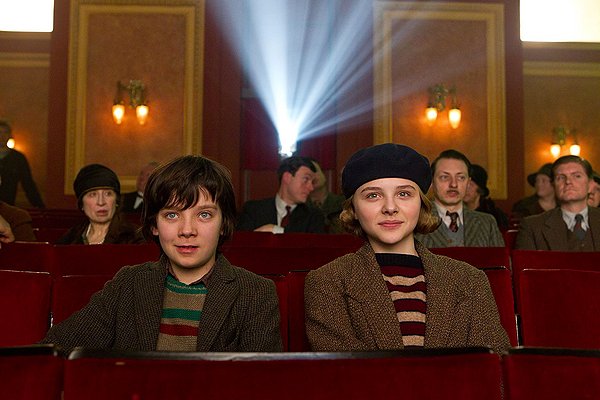 Every September I get asked the same question: "When you get to the end of TIFF, don't you feel like the last thing you want to do is watch more movies?" I can see how some might think that way, but for me the answer is very much "no".
It's the time of years where drowning in wonderful and unexpected stories all of a sudden becomes the norm. It's as if I've won some sort of lottery, and my routine now revolves around watching movies. Meals are being planned around them, friends are joining me to revel in them, and life suddenly becomes about them.
Seeing all of the titles you see below in a mere twenty days might seem like The Ludovico Technique from A CLOCKWORK ORANGE, but nothing could be further from the truth. If anything, it's getting used to a more reduced slate that takes adjusting.
Consider yourself warned – Here are The Last Three Weeks…
Screenings
LAWLESS - Chastain and Hardy are wasted. Not terrible though.
FAR OUT ISN'T FAR ENOUGH - I must buy some Tomi Ungerer books soon!
RUST AND BONE - Cotillard dazzles in a messy film.
LIKE SOMEONE IN LOVE - Come armed with copious amounts of patience.
THE PLACE BEYOND THE PINES - I'll be keeping a close eye on this one next year.
SEVEN PSYCHOPATHS - Once I got over my expectations, I laughed my ass off.
THE END (FIN) - Intriguing, if unspectacular.
SILVER LININGS PLAYBOOK - Don't watch the misleading trailer, just make a date to watch this in November.
PAINLESS - Not as mysterious as it wishes it was.
THE FITZGERALD FAMILY CHRISTMAS - Got a bit of a smile yesterday when I discovered Edward Burns had read my review.
THE IMPOSSIBLE - Not every festival selection is a diamond.
BYZANTIUM - I repeat: Not all diamonds.
TO THE WONDER - Wake me up when  Malick fully finishes this.
MY AWKWARD SEXUAL ADVENTURE - Canadian comedy which I almost want to call "Fifty Shades of Eh" (Sorry, I couldn't resist)
GHOST GRADUATION - Pure. Joy.
HERE COMES THE DEVIL - A throwback to grindhouse 70′s horror.
JUMP - Everything sounds better with Irish accents.
A WEREWOLF BOY - I got talked into this one, and I really should have known better.
ROOM 237 - I'll never watch THE SHINING the same way again.
MUCH ADO ABOUT NOTHING - I'd give my right arm to have vacations like Joss Whedon's
COME OUT AND PLAY - No thanks. I'm  good.
CLOUD ATLAS - I can't wait for the arguments about this film to surface in six weeks.
WASTELAND - Shades of GOODFELLAS and THE USUAL SUSPECTS…but young, and English.
FRANCES HA - A surprise for many reasons!
AMOUR - A heavy contender for best film of the year.
THE SUICIDE SHOP - Charming, but bogged down by 3-D and unnecessary musical numbers.
THE MASTER - Going to see it again this afternoon. Ask me about it again tomorrow.
THE SESSIONS - My first post-TIFF screening of a film programmed at the festival. Good things from the whole cast!
Blu-Rays/DVD's I've Never Seen
THE DEBT - Who knew John Madden was capable of such tension?
FLIRTING WITH DISASTER - In the midst of the O. Russell love from SILVER LININGS, I decided to fill in a gap.
Blu-Rays/DVD's I've Watched Before
BLACK SWAN - Memories of TIFF past
SUPERBAD - One of my oldest reviews on this site. Please excuse the writing quality.
THREE KINGS - Still my choce for the best David O. Russell film.
PRIMAL FEAR - I was feeling "Very 1996″ that day.
THE LORD OF THE RINGS: THE TWO TOWERS - Know what was missing in the three hour cut? Walking and talking.
I (heart) HUCKABEES - "Exactly – what African guy?"
IT MIGHT GET LOUD – A fine choice for a mid-TIFF watch.
THE SHINING - You had to know this was coming.
WHERE THE WILD THINGS ARE - I'm still surprised this doesn't get more love.
LAWRENCE OF ARABIA - Thanks again Jandy.
HEDWIG AND THE ANGRY INCH - Sometimes when I put on a movie, Lindsay will stop what she's doing and join me on the couch. this was one of those times.
FULL METAL JACKET - If you haven't picked up the new blu-ray yet, you're missing out.
MAGNOLIA - THE MASTER needed more frogs.
TRUE ROMANCE - After seeing how many of y'all watched it after we lost Tony Scott, I felt like I needed to catch up.
Boxscore for The Year
187 First-Timers, 166 Re-Watched
104 Screenings
353 Movies in Total
How's about you – seen anything good?
Tags:
a werewolf boy
,
amour
,
black swan
,
byzantium
,
cloud atlas
,
come out and play
,
far out isn't far enough
,
fitzgerald family christmas
,
flirting with disaster
,
frances ha
,
full metal jacket
,
ghost graduation
,
hedwig and the angry inch
,
here comes the devil
,
i (heart) huckabees
,
impossible
,
it might get loud
,
jump
,
lawless
,
lawrence of arabia
,
like someone in love
,
magnolia
,
much ado about nothing
,
my awkward sexual adventure
,
painless
,
primal fear
,
rust and bone
,
seven psychopaths
,
silver linings playbook
,
suicide shop
,
superbad
,
the debt
,
the end
,
the master
,
the place beyond the pines
,
the sessions
,
the shining
,
the two towers
,
three kings
,
to the wonder
,
true romance
,
wasteland
,
where the wild things are