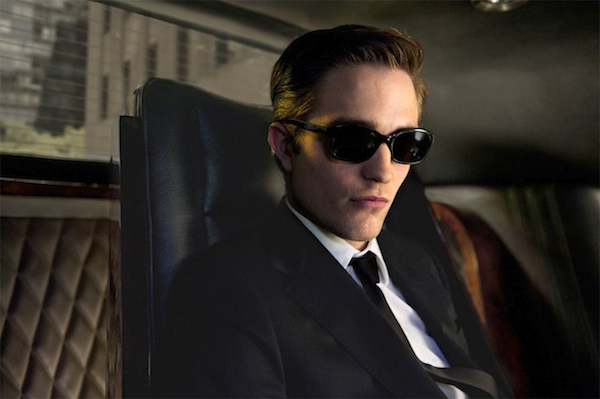 Is there something in the guidebook of How to Succeed in Business that says "in order to truly hit it big, you must be emotionally detatched"? It feels like the higher up the ladder one climbs, the more closed off they become, and the harder they are to impress. Have they conditioned themselves as such? Have they just seen and done so much that it takes that much more to get a reaction? Are they bored? It all almost seems counter-intuitive…after all money doesn't buy happiness, but I'm sure it can't hurt.
I wonder, for these super-rich, super powerful people, how much more closed off do they have to get, before they don't even feel the fire as they start to burn?
Eric Parker (Robert Pattinson) is a billionaire financier. He has had his personal limousine customized with all of the latest toys and luxuries to the point where he never needs to set foot outside of it if he doesn't want to. One afternoon he steps in, instructing his head of security Torval (Kevin Durand), that he wants to go for a haircut. Torval points out that the city is facing massive traffic snarls due to a presidential visit, a large-scale protest, and a midtown funeral. He suggests Eric reconsider.
Undeterred, Eric instructs Torval and his driver to proceed. This the car slowly creeps through the city towards Eric's particular barber of choice.
As the car rolls along, various people stop in. Eric is met by his tech developer (Jay Baruchel), his art consultant/mistress (Juliette Binoche), his chief advisor (Samantha Morton), and even his doctor…or rather, the doctor that was on-call that day. The car almost never stops rolling. They get in, do what they need to do, and get out.
One of the few people Eric does get out of the car for is his wife Elise. They find each other once or twice in the busy city afternoon, but it's understood that their relationship is more of a business arrangement than a romantic one. Eric doesn't seem to actually emote anything towards her, and she returns the favour.
No matter. Their meetings become just another appointment during Eric's surreal day of crawling through a city in a limo en route to a haircut.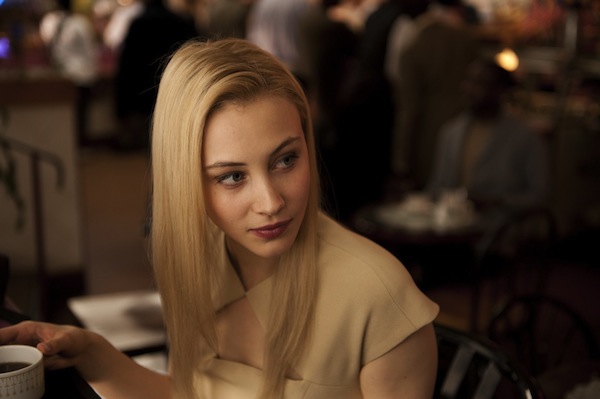 It's taken me two nights and a several drinks to fully bend my brain around COSMOPOLIS. In that time, many words have come to mind:
Cold.
Dry.
Remote.
Restrained.
Underplayed.
But the one word I cannot come down on is "bad".
There are two propositions I accept that allow me to see it as something more than just "bad". The first is that there are people in this world for whom life has lost its joy. They are the people who have it all, and can easily afford what they don't have. These movers and shakers have tasted the finer things in life, and for them the bar is set that much higher. Along with everything needing to be that much more unique to bring them any excitement, they have also become emotionally detached from so much that we lowly plebes have to endure. For them money is the only thing worth talking about…and they talk about it so much that the conversation has lost all meaning. They can discuss billion dollar decisions with the  outward excitement of a tablespoon – and they can have these discussions while the world around them burns down.
The other proposition I accept is that Eric really wants his haircut. This notion is every bit as absurd as it sounds, but I came to realize that this is the whole point. Look at that photo up top and tell me that man needs his haircut. He doesn't, but he's the sort of man us lowly commoners aren't allowed to disagree with. That Eris would spend all day in snarled traffic to get across Manhattan to a particular barber is a stretch. However, one could also say that a rock start paying the full price of an airline ticket to have his hat flown to him is a stretch too…that doesn't mean it hasn't happened. We are talking about a man here who gets medical check-ups every day: A haircut is the least of his extravagances.
If you can't accept both of those propositions, you won't buy the film. Even if you can accept both propositions, you might not buy the film. The people in this film couldn't care less what is happening in the world around them. They are far too self-involved, too secure in their re-inforced cars to care one lick about what affects their fellow man. The discussions they have are deliberate, emotionless, and distancing – so much so that the opening twenty minutes become a litmus test all their own on how much time you want to give this slice of "The 1%". All these people know is money and image – It's all they can talk about. They do so as if they were reciting a Bret Easton Ellis novel without the yuppy perversion.
Helping matters even less is the damned car we spend so much time in. It's silent and sterile, and keeps all of the life of the world sealed off from its precious cargo. Unfortunately, it is also an unremarkable set, and one that seems to keep us sealed off from the real story. It leaves us in the audience feeling deliberately isolated, and alienated. We're the suckers standing behind the velvet rope, while the rich, pretty people go inside to not enjoy themselves.It's a frustrating feeling, and one that has even sparked a friend of mine to walk out of the film before its end.
However, all of this isolation and stunted conversation is not enough for me to write the film off (same as it wasn't enough to make me walk out). Not only does that pay dividends since one of the best scenes in the film is a long conversation that concludes it, but it also comes from this feeling that David Cronenberg tried to do something different. He's been playing things a bit more buttoned-up these past ten years with SPIDER, EASTERN PROMISES, A DANGEROUS METHOD, and A HISTORY OF VIOLENCE. As solid as most of those films were, some of us wanted the old kooky Cronenberg back…the weirdo who brought us DEAD RINGERS, THE FLY, and NAKED LUNCH. There's a little kook in this film, but there's a lot of the arrogance of those classics evoked.
COSMOPOLIS will not be a well-liked film, and might not even be a film that is liked at all. However, I won't soon forget about it and its aloof affluence. As the film goes on, Eric keeps shedding things: his tie, his jacket, his staff, his hair, and eventually his big, bad car. Part of me believes that if he'd had one more scene to shed one more piece of his identity, all of the mechanisms would have clicked into place, and COSMOPOLIS would have unlocked itself fully.
Instead we are left to ponder and puzzle what might have been…spinning the combination dial until we tire of the game and move on.
Matineescore: ★ ★ out of ★ ★ ★ ★
What did you think? Please leave comments with your thoughts and reactions on COSMOPOLIS.