There's a little boy and on his 14th birthday he gets a horse… and everybody in the village says, "how wonderful. The boy got a horse" And the Zen master says, "we'll see." Two years later, the boy falls off the horse, breaks his leg, and everyone in the village says, "How terrible." And the Zen master says, "We'll see." Then, a war breaks out and all the young men have to go off and fight… except the boy can't cause his legs all messed up. and everybody in the village says, "How wonderful." 
Now the Zen master says, "We'll see."
ARGO begins in 1979 during the Iranian Revolution. It's then that a group of revolutionaries storm the American embassy in Tehran and take the people there as hostages in response to America's harbouring of their recently deposed Shah. During the mayhem, six Americans escape out a back door and manage to find refuge in the residence of the Canadian ambassador to Iran, Ken Taylor (Victor Garber). When the American government learn the six have escaped, they decide to launch a mission to get those six out as fast as possible.
The question to be answered is "how"?
Enter Jack O'Donnell (Bryan Cranston) and CIA specialist Tony Mendez (Ben Affleck). Acting as consultants, they immediately shoot down half-assed ideas that will almost surely get the six hostages killed, but can't immediately offer a better idea. As Tony talks on the phone with his son one night, the idea presents itself in the form of bad 1970′s sci-fi. Tony pitches the idea that a fake sci-fi film will go into production, he'll get into Iran himself, and all seven will pose as a Canadian film crew scouting locations for the project. It's a bad idea, but it's by far the best bad idea the CIA has.
With the idea approved, Tony then jets to Hollywood to build the cover story. He teams up with Hollywood make-up wizard John Chambers (John Goodman), and mid-level producer Lester Siegel (Alan Arkin) to find a script to fuel their elaborate lie. The trio discover a script titled ARGO set on Mars, so the palaces and deserts of the middle east will compliment their ruse perfectly. As just enough pre-production on ARGO begins, Tony heads to the Middle East to sneak into Iran.
Oh, did I neglect to mention that the six hostages don't know a thing about this?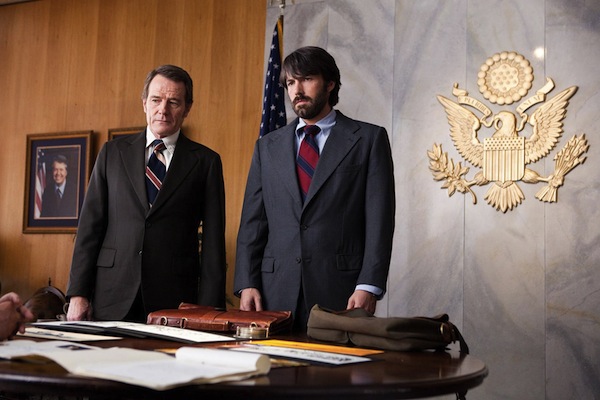 ARGO is a film that is all about the viewing experience, and less about trying to reinvent the wheel. Perhaps the greatest evidence of that comes with its subject matter; a 33-year-old story that many in the audience know the end of. The story isn't so much "Will the hostages escape?" so much as it is "What will happen when they make their escape?". Because of this, the whole experience comes down to execution. Again, I don't think the execution is anything revolutionary, but it is on-point and does a good job of enrapturing an audience who are likely familiar with the road they are walking down.
One of the things that is fascinating about ARGO, is how it celebrates that so much is done in our world without the desire for credit. While they might not have the crazy cover of involving a movie production, things are being done everyday to keep us safe. They involve co-operation and professionalism, and a complete disregard for ego. In many ways they are like baseball umpires: If they do a good job, nobody knows their name – but screw something up, and suddenly all eyes are on them. This type of M-O is rare in the world; to do a job – and do it well – without want or need of an 'attaboy'.
The other thing that's interesting is the way it paints the role of Iran. At a glance, ARGO seems like a story of getting the innocent out of the reaches of a harmful aggressor – when in truth that isn't the case. Remind yourself, that the entire reason for the uprising was the fact that America was harbouring a deposed leader whose homeland was asking for his extradition to stand for his crimes. While we find ourselves back in a place where relations between the west and the middle east are again tense, this movie doesn't play into propaganda. While Iran's actions might not have been the best route to take for social justice, the film doesn't demonize them and make them seem like monsters. The risk the CIA and the six hostages take isn't underplayed, but it's a risk that is run by the fact that they are running a sneak play…not because they are in the right.
The way the film blends these ideas, along with some wry humour is what makes ARGO play so well. It has different movements, which while rather different all work in concert by the time all is done. Any film that can employ the fear of driving through an Iranian protest with the silliness of a phrase like "Argo Fuck Yourself" is certainly doing something right. It begins as what my friends call a "File Cabinet Movie", momentarily becomes mildly farcical, takes a turn towards the procedural, and ends with a gripping sequence of 'will-they or won't-they?'. Bring all of those together in most films and they feel like a tonal mess; ARGO meanwhile moves from one to the other with grace.
I brought up that quote off the top of this piece because history has a funny way of continually twisting itself into something different. As things unfold, with the whole world watching, the details might seem black and white. It's only with the passing of time – and the full scope of truth & consequences – that we can understand where things went well, and where they were royally screwed. I have no theory to offer here on how we could ever learn from our mistakes, just making a curious observation on the cost between the extraction of these six hostages, and the extraction of the remaining 60+.
Ask your parents kids.
Matineescore: ★ ★ ★ ★ out of ★ ★ ★ ★
What did you think? Please leave comments with your thoughts and reactions on ARGO.