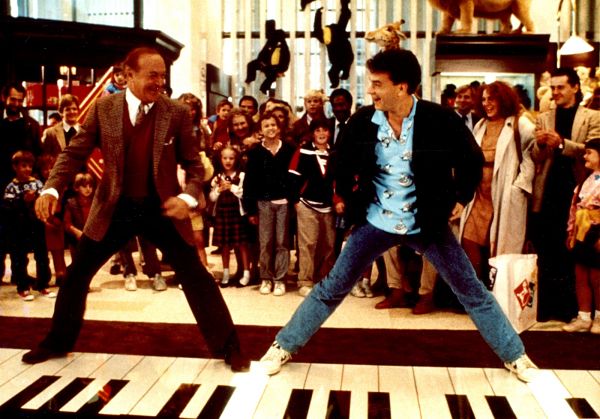 A little more than two years ago, I hatched a good idea for a writing series on this space. While it has provided me some wonderful fruit, I still hope to hravest a bit more. Thus, I'm hoping to reseed this forgotten orchard by…something, something, something, horticulture metaphor.
Jokes aside, I've had some great conversations over the last several months about people's first time watching what I percieve to be pop culture classics. These are films of the era that I believe hold up well to rewatch (so no FOOTLOOSE, or GOONIES) but ones that haven't elevated themselves into that capital-C-Classic Film status (thus no PULP FICTION or INDIANA JONES).
What I'm saying is that this project shouldn't be confused with the Blind Spot Series, since I'm more interested here in pop culture touchstones…not necessarily movies that make lists like the AFI Top 100 or The Sight & Sound Poll. Think more PRETTY WOMAN, and less LITTLE WOMEN.
I know some people out there had plans to contribute (BIG, and THE LION KING were spoken for once upon a time), but again I have run out of participants. I still remain hopeful that I can find someone to tackle HARRY POTTER & THE PHILOSOPHER'S STONE, but my last attempt at that one didn't go so well.
So again, I put out this call to arms:
I'm looking for people who have never seen certain pop culture classics from the 80′s and 90′s to give the films a watch sometime soon, then discuss their thoughts on them with me via email. If you're interested, leave a comment or drop me an email with your selection.
In case you're curious, the films we've covered so far include:
FAST TIMES AT RIDGEMONT HIGH
SCARFACE
GHOSTBUSTERS
GREMLINS
THIS IS SPINAL TAP
BACK TO THE FUTURE
THE BREAKFAST CLUB
FERRIS BEULLER'S DAY OFF
HEATHERS
DIRTY DANCING
BATMAN
SAY ANYTHING
WHEN HARRY MET SALLY
CLUELESS
Some films I'd particularly like to tackle in coming months include EDWARD SCISSORHANDS, THE LION KING, AUSTIN POWERS INTERNATIONAL MAN OF MYSTERY, and BIG.